Description
Are you aware of the amount of spots you miss while cleaning your toilet with a traditional brush? Golf Head Silicone Toilet Brush is the world's first flexible, Golf silicone head that reaches all areas for you, even under the rim! The design is great for drying the brush, leaving the toilet scratch free and reducing odor. Super lightweight yet sturdy, it is convenient for folks of all ages. Say goodbye to traditional toilet brushes!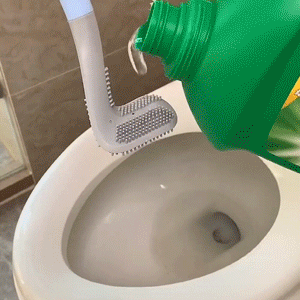 ✨【CLEAN ANY CORNER OF THE TOILET DEEPLY】
The unique brush head design is triangular, and every angle fits the toilet, leaving no blind spots. Can clean any corner of the toilet deeply. easy to clean the corners and dark grooves.

✨【MAKE HOUSEWORK EASIER】
The brush bristles made of high-quality TPR materials will not cause damage to the glazed toilet. Hair is not easy to entangle, and housework is easier.
✨【THE BRUSH IS EASY TO CLEAN】
The toilet bristles are not sticky to hair, and the dirt on the brush will be clean as soon as it is rinsed, and the dirt will not remain, clean and hygienic!

✨【HANGING WALL DESIGN】
Perforation-free and durable. Nail-free installation, strong and non-marking stickers, durable and stable, not easy to fall.Convenient for daily cleaning.

Materials: PP+TPR
Product Colors: White/Blue/Black/Green
Product Size: 40*7.2*5CM/41.5*10*7.1cm
Product Weight: 100G/260G
Package Contents:  1 × Golf brush head toilet brush
Buyer Protection